Hi there, you'll have to excuse the sporadic blogging.  I've been very busy lately and out and about painting.  If you'd like to read about it, and in fact if you'd like to hear from me more often (but not too often), my monthly newsletter is probably your best bet.  You can sign up here and all usual privacy safeguards apply.  I tend to share news, tips AND offers i.e. sale works.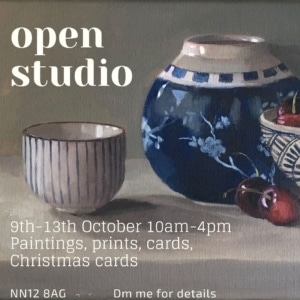 I wanted to let you know about my open studio next week.  I'll be opening my studio and home to all comers who'd like to see my work and/or have a coffee and a chat.  Paintings, prints, cards and Christmas cards will be on sale and there'll be some veritable bargains in the sale box.
This week, I've been painting damsons whilst they are still around.  I love their blue colour and the bloom on their skins.  Bubba and I go to fetch them in the mornings as they drop onto the lane from over-hanging trees and we have to be quick in picking them up before any cars come down the lane and splat them.  Sadly, Bubba doesn't quite appreciate the urgency in the mission and likes to take his time, leaving little messages for his friends on every bush en route.
Here's one I made earlier: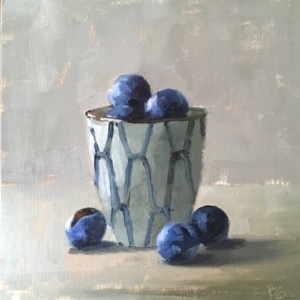 Click here to purchase
https://pennygerman.com/wp-content/uploads/2020/03/Grey-Logo-March-2020-1.png
0
0
Penny German
https://pennygerman.com/wp-content/uploads/2020/03/Grey-Logo-March-2020-1.png
Penny German
2019-10-05 09:23:40
2019-10-06 09:07:12
Damsons